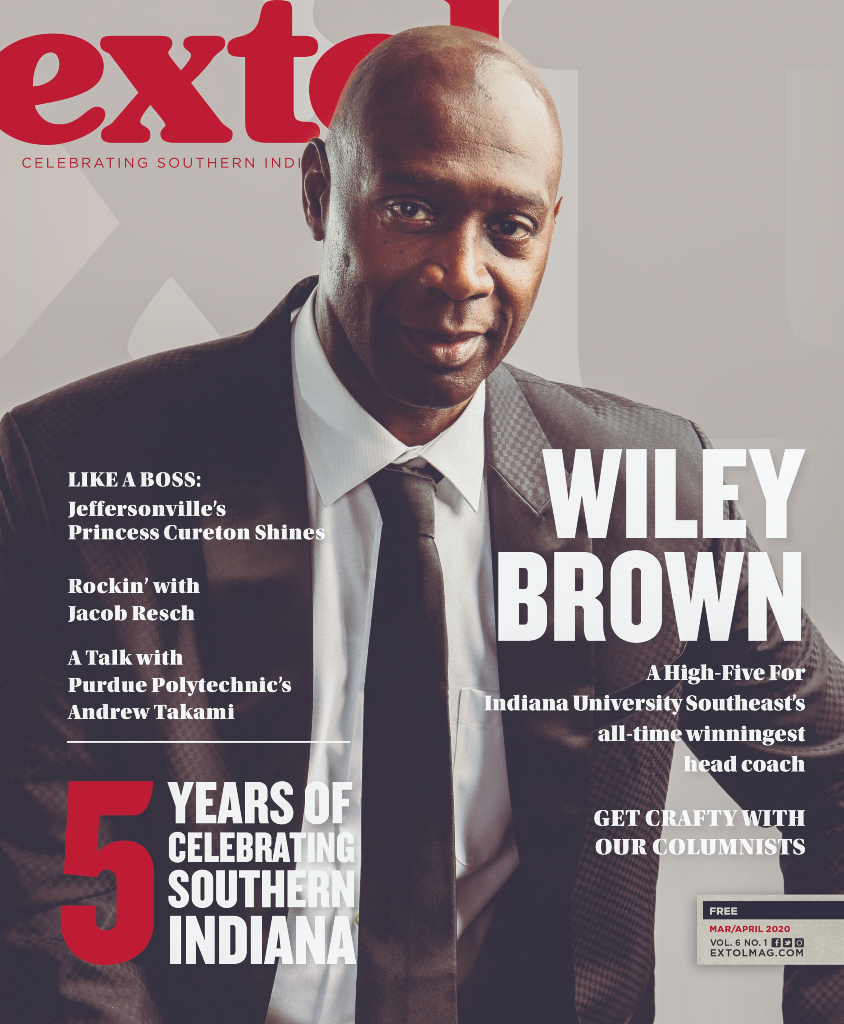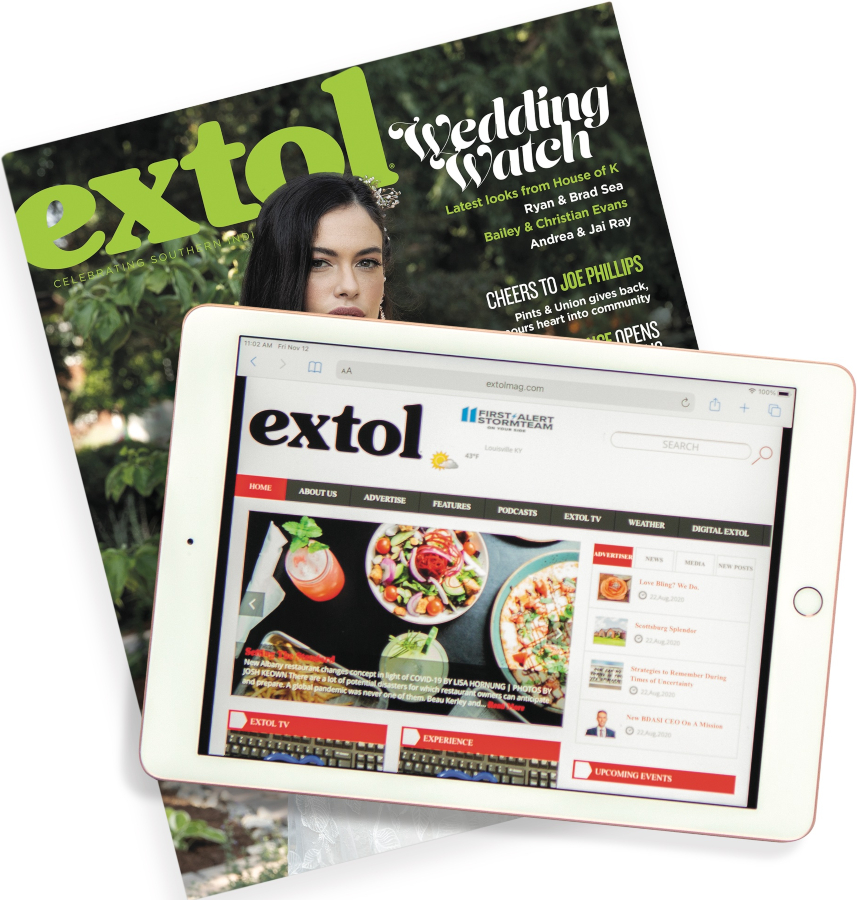 Pivot & Rebound
COVID-19 shut down publishing on a beloved local magazine but opened up a new playbook that no one saw coming.
IN late February 2020, former University of Louisville basketball great Wiley Brown stood clad in a sharp suit palming a basketball against a backdrop stretched to its limits in our small studio, the photographer capturing every bit of Brown's 6-foot-7-inch figure. A basketball legend and former NFL player who spent two years with the Philadelphia Eagles before pivoting to play for the International Federation of Basketball, Brown was now the long-time head men's basketball coach at Indiana University Southeast—and one of the reputed creators of the high five.
The story, which is still debated but checks out when viewing highlight reels of the University of Louisville Cardinals from 1978-'79, credits Brown and his teammate Derek Smith with what an 1980 NCAA finals announcer called a "high-five hand.shake." There were plenty of those when the Cardinals netted victory, and despite others taking credit over the years for the invention of the gesture, folks who live in the region where Extol Magazine is distributed claim the high five as our own, thanks to Brown and Smith, who went on to play in the NBA.
From its launch in February 2015, Extol Magazine has had one mission: To celebrate Southern Indiana, and beyond. The much-loved Wiley Brown was the perfect person to grace the cover for what would be our fifth anniversary issue, giving a symbolic high five to all who had supported our publication. Unbeknownst to any of us as we distributed thousands of copies to hundreds of local businesses in the short two weeks that followed the memorable cover shoot, that print issue would be our last.
In addition to serving as co-owner and lead editor of Extol Magazine at that time, I also worked a full-time job hosting a daily lifestyle morning show on the local ABC affiliate station. On Friday, March 13, 2020, my TV team and I were sent home to resume broadcasting the show—me, from my kitchen table. My husband Jason, Extol Media co-owner and chief revenue officer, and I proceeded to spend far too many hours pouring over news reports as COVID-19 shut down nearly everything.
Extol is a bimonthly regional publication supported by advertising dollars from mostly locally owned businesses. With a mandated lockdown in place and so many unknowns with the virus, we were at a standstill and quickly shifted from thriving to surviving.
While I'd like to pretend we quickly adjusted to a "new normal"—a term I think I will loathe for the rest of my life—the reality is that watching our advertising partners shrink away, along with the magazine company we'd worked so hard to build, was devastating both personally and professionally.
Initially, we tried to secure financial help to keep Extol afloat, to no avail. Our business didn't qualify for any grants, and the local chamber of commerce rejected us for a low interest loan because we "didn't fit the spirit of the loan program." Our personal savings began to dwindle.
Ultimately, we made what we felt was the responsible decision to stop publishing, potentially for good. How could we ask businesses that were barely able to keep their doors open to also help carry our magazine and business? And, without a magazine, much of our advertising revenue disappeared. We also couldn't risk putting our staff in harm's way with in-person contact, as the number of those affected by the pandemic increased. "I think it's time to call it quits," I told my husband one night, in tears. He somberly nodded his head before we agreed to sleep on our decision.
Then, the next morning came. As I worked in the kitchen recording computer-to-computer interviews for the television show, Jason peered around the corner. He had that look on his face I knew all too well: He had an idea.
Jason suggested that our advertisers likely had different and pressing needs in this new paradigm in which we were all operating—and that we stood a chance of being well-equipped to help them. He wanted to identify and explore these needs, so he contacted local business owners, one email or phone call at a time. He quickly came to understand that most of these businesses had remained opened but were operating in new ways—and they needed to get this word out to their customers. A local meat shop, for example, was offering online and phone orders with curbside pickup and touchless payment. The shop needed to promote their service options but were far too busy, and not quite tech-savvy enough, to do it themselves. Other businesses shared similar stories. They had found innovative ways to operate but ran into the same stumbling block: No one knew they were still open. We could help.
We had the expertise, equipment, and staff to create effective, multimedia social media campaigns for these businesses. We could utilize StreamYard, the same broadcasting tool I used for the television show, to record video interviews and livestream. Jason was ready to suit up in safety gear, armed with hand sanitizer, antibacterial spray, and CDC guidelines, to take photos and shoot video footage. Our videography team, working from home, could slice and edit video footage. Ultimately, we would send the final videos to our clients to use on the platforms of their choice, or manage their campaigns and postings for them.
We also realized that while we couldn't print the magazine (and weren't sure we ever would again), we could create a digital version enhanced with the multimedia content we were producing. In May 2020, we published the first of three digital issues. This was a shorter version of our print magazine but gave us a platform to work with. It included editorial content, many of the videos we had helped create for advertisers, and an audio version of my editor's note. After our first edition, our inbox filled with requests from other local companies that needed help getting the word out to the area about the services they were offering and how the community could access them.
By midsummer, we were managing numerous social media accounts for paying clients from a variety of industries—real estate, hospitality, finance, retail, nonprofit, even used car sales. We were creating content that mattered, working long hours seven days a week (I, still working my television job). We were grateful for the work and the deeper meaning behind it: We were integral to helping other businesses survive by helping them communicate with their audiences at a time when so many felt disconnected. That awareness alleviated a bit of our stress over how we would survive, too. Focus on what we can do right now, we'd remind one another. That's the only thing we can control.
ALL IN ON THE PLAY
In October, a local organization sought our assistance with livestreaming an event during which they awarded more than $80,000 to a local nonprofit. The success of this engagement led to other livestream opportunities for us, thanks to the reach of the high-profile event and subsequent positive referrals. It also provided a glimmer of hope: Maybe Extol Media could continue to exist—just differently.
By early 2021, we were starting to make money again, no longer barely breaking even. It also became clear that there was no way I could continue hosting a daily television show and working as many hours as were needed for Extol—the work for which I found gratifying. I knew that if I didn't take a leap of faith, even in the midst of pragmatic unease, we wouldn't have another opportunity to see what our company could become. My contract with the station ended, and I was presented with the opportunity to sign a new one. The moment I spoke the words, "Thank you, but I'm moving on," I knew I'd made the right decision.
The very next morning, we went to work outlining how to move forward. Our advertisers had shown us that video production; social media content and account management; and marketing and promotional assistance were valuable to their businesses. We would focus heavily on these services. Eventually, when we had the staff and adequate finances, we would devote time to creating our own content again—highlighting the people, places, businesses, and interesting aspects of the region we call home.
We talked with a locally owned bank, which approved of our business plan and believed in us enough to offer a revolving loan that would keep us going when and if we needed it. That bank had been a longtime advertising partner and knew us well. In this, I saw proof that working to sustain relationships with clients can pay off in ways you may never understand until a need arises.
As business picked up, our need for a new workspace became increasingly evident. Not only had we outgrown our existing space, but an unexpected flood severely damaged our studio. We found an ideal location, and while the lease was more than we had hoped for, we signed on because we were confident the space would enable us to increase our services in ways we had thru far only been able to dream about. (Spoiler alert: We were right.) We were gradually able to add to our team and now have a full-fledged video production and photography team, licensed drone pilot, and on-camera reporters.
But in all this, we never forgot about our print magazine—the centerpiece of our planned return to editorial content.
Starting in late 2020 and intensifying in 2021, we fielded phone calls from potential advertisers who were interested only in print ads and community members who wanted to know whether we would resume print publication of Extol Magazine. We agreed it was time. In June 2021, we began contacting all of our former print advertising partners. Almost all jumped on board—many with smaller buys, but it was a start. We limited the page count to 64 plus cover and will remain there until we feel comfortable increasing. The debut of our return issue in August 2021 was a momentous event that brought several of us to tears of gratitude. It also caught the attention of an experienced sales manager who wanted to join our team. She has since hit the ground running, focusing mainly on attracting new print advertisers, while also selling our additional services.
When I received a few complaints from readers who couldn't find our relaunched magazine on the stands shortly after they'd been delivered, I was ecstatic: People were looking for us, and copies of the magazine were getting scooped up.
Equipped with our new studio, staff, and enhanced capabilities, we launched Extol Live, a weekly livestreaming show, in June of this year. Every Friday, we live-interview an array of people from our area. We balance editorial content with featuring local businesses (the latter as part of advertising packages). With my background in TV, I'm the host, but this platform has provided a great opportunity for me to train other reporters on staff to fill that role as well.
Speaking of TV, we're going there, too. As I write this, we're preparing to air the first episode of This is SoIN, our own weekly television show. It's the community-oriented lifestyle TV show I've always wanted. It will focus on inspiring, interesting, fun stories from our community, with advertisers incorporated by way of commercials and sponsored segments. It will both complement and elevate our other platforms.
All of these ventures are opportunities to connect the people in our community, present our print advertisers to that audience, and enable us to tell our own ever-evolving story.
We have, in fact, come a long way since those dark days at the onset of the pandemic, when we thought our business might not make it. Ultimately, all but one of our advertisers stuck with us. And, by virtue of our tenacity and innovative approach, we've grown. In the upcoming issue of Extol Magazine, we have more new advertisers on board than we've been able to bring on since before the pandemic. In the last three weeks alone, we've welcomed five new clients, one of which is our largest advertising partner to date.
We made a bet, and it paid off. When our business and our advertising base were in crisis, we chose to focus all of our efforts on supporting our advertisers, on serving them in the ways they needed to be served to help them survive. As we re-established our footing, we were able to resume and grow our editorial efforts. As a regional publisher, this approach makes sense because we are only as strong as the community that we feature and are a part of.
I haven't reached out to him yet, but I hope Wiley Brown will take me up on an invitation to be photographed in our new space. I'd like to use a spread in the magazine to high five, figuratively, not only our advertisers and readers, but also my team and what we have built over the past two years. It'd be fitting to have our community member and creator of the high five as part of that celebration.
Angie Fenton is president & chief executive officer at Extol Magazine & Media. She and her husband Jason recently celebrated seven years of marriage and six years of running Extol. They plan to finally take their honeymoon in 2022. Connect at fenton@pagesthemagazine.com.