Back From the Dead
How unexpected patrons stepped in to help revive a shuttered alumni magazine.
By Will Kopp
OWU Magazine was dead, to begin with. There was no doubt whatever about that. The register of its burial was signed by the president, the cabinet, the board of trustees, and the chief of communications.
And I figured it was missed about as much as Jacob Marley.
The magazine for Ohio Wesleyan University alumni, parents, and friends, OWU Magazine, was born in October 1917, just a few months before a global pandemic would kill millions around the world, alter our everyday way of life, and interrupt the academic year at Ohio Wesleyan.
Growing Vines
How a British expat living in France has grown a thriving publishing enterprise, one thoughtful step at a time
By Sharon Santoni
As I sat at my New Year's Eve table at the end of 2009, surrounded by friends and family, I was happy.
I knew that life was good—I was safe, and my family was doing well. But I could not deny there was a nagging feeling in the pit of my stomach. The youngest of my four children had just become a teenager, and I didn't feel as useful as when they were little. The truth was, after being a full-time, hands-on mother for the previous 20 years—and don't get me wrong, I loved every minute—I was bored. And being bored has never worked for me. So, as the clock struck midnight, I raised my glass of champagne and, although nobody was listening, said these words out loud: "2010 will be the year I reinvent myself."
I was 50 years old. I had no idea what I was planning to do and honestly, had little professional experience. Around the same time, an American girlfriend sent me the link to a blog she had started. As I read her posts and discovered other interesting blogs she recommended, it felt as if the doors had been thrown open to an exciting party going on. If I wanted, I was allowed to join in.
Pivot & Rebound
COVID-19 shut down publishing on a beloved local magazine but opened up a new playbook that no one saw coming.
By Angie Fenton
IN late February 2020, former University of Louisville basketball great Wiley Brown stood clad in a sharp suit palming a basketball against a backdrop stretched to its limits in our small studio, the photographer capturing every bit of Brown's 6-foot-7-inch figure. A basketball legend and former NFL player who spent two years with the Philadelphia Eagles before pivoting to play for the International Federation of Basketball, Brown was now the long-time head men's basketball coach at Indiana University Southeast—and one of the reputed creators of the high five.
The story, which is still debated but checks out when viewing highlight reels of the University of Louisville Cardinals from 1978-'79, credits Brown and his teammate Derek Smith with what an 1980 NCAA finals announcer called a "high-five hand.shake." There were plenty of those when the Cardinals netted victory, and despite others taking credit over the years for the invention of the gesture, folks who live in the region where Extol Magazine is distributed claim the high five as our own, thanks to Brown and Smith, who went on to play in the NBA.
From its launch in February 2015, Extol Magazine has had one mission: To celebrate Southern Indiana, and beyond. The much-loved Wiley Brown was the perfect person to grace the cover for what would be our fifth anniversary issue, giving a symbolic high five to all who had supported our publication. Unbeknownst to any of us as we distributed thousands of copies to hundreds of local businesses in the short two weeks that followed the memorable cover shoot, that print issue would be our last.
Fall 2021/Winter 2022 Departments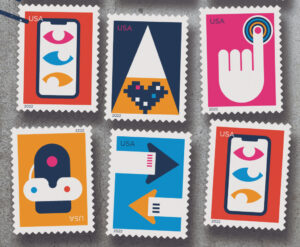 By Jason Kiefer
Given the increasing cost of mailing through the United States Postal Service (USPS), it's worth looking at all possible ways to secure postage discounts. If your publications are classified as Marketing Mail or First Class Mail, you are eligible to take advantage of upcoming 2022 USPS Promotions.
These annual programs are designed to encourage mailers to try new technology and print techniques aimed at driving higher customer engagement and response rates. And of course, the USPS has a vested interest: To increase print mail relevance and volume. The Postal Service offers a discount to incentivize mailers to try these techniques. For some of the 2022 promotions, the USPS is increasing (in some cases, doubling) the discount and extending the program duration from past years.
Each promotion includes various implementation options, rules, and exceptions (this is the Postal Service), so here we've culled the specific opportunities most relevant to magazine publishers. For complete details on each promotion, visit: postalpro.usps.com/promotions.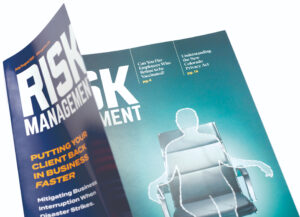 A clever wraparound creates more ad space without compromise.
Risk Management is the flagship publication of the Risk & Insurance Management Society (RIMS), a nonprofit association dedicated to advancing the risk management profession around the world.
For our July/August 2021 issue, an advertiser wanted to make a larger splash than what our traditional ad positions provided. As for any publication, revenue is important but so is making sure we strike the appropriate balance between editorial and advertising. And, as part of a professional organization that serves a broad risk management and insurance constituency, we're not in the business of endorsing one company over another. With that in mind, we put our heads together and landed on offering a partial false cover wrap.
Spotlight: UTA Earns a 4.0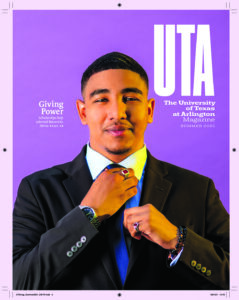 Looking for a little extra credit, UTA produces four covers for their summer issue.
At The University of Texas at Arlington, our current marketing tagline is "Students First, Excellence Always."
This sentiment drives everything we do, including in UTA Magazine, where our goal is to put stories of student success (and by extension, alumni success) front and center. One of the most impactful examples of this in our summer 2021 issue was "A Chance to Soar," a feature article spotlighting students who are pursuing their dreams at UTA thanks to scholarship support. Choosing this feature as our cover story was the obvious decision, but given the strong portrait photography that accompanied the piece, selecting just the right visual for the cover was more challenging.