Paper and postage typically represent the two largest expenses incurred to publish a magazine. As such, it's important to understand and track the changes afoot in these two industries. Planning and diligence will help you minimize the disruption to your business.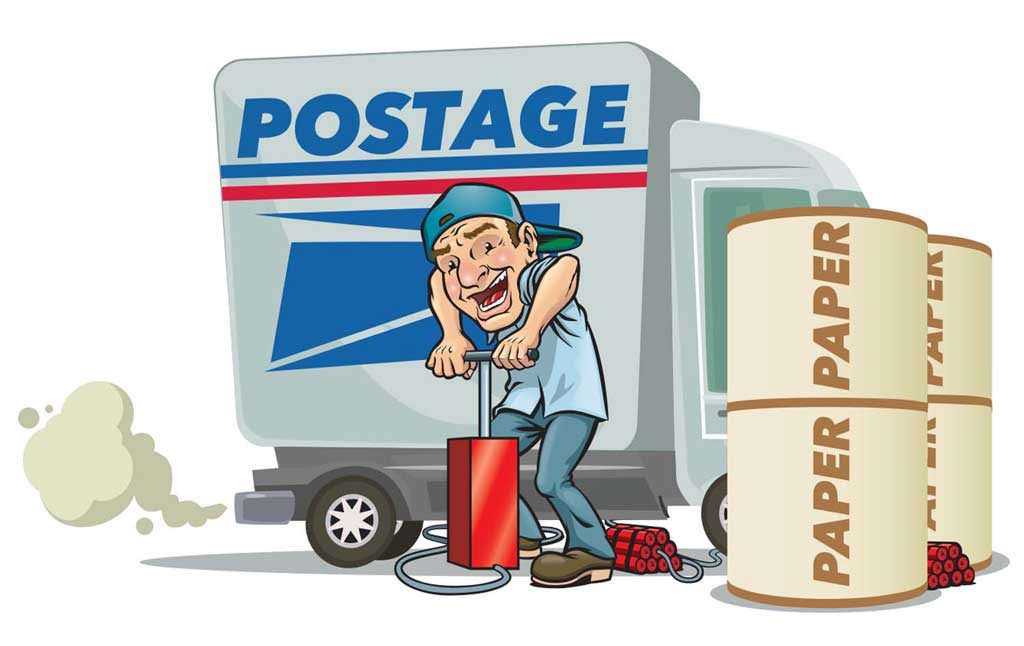 PAPER
Recent upheaval in the publication paper market will impact both pricing and availability of stocks. In the fall, paper makers removed an astronomical 700,000 metric tons of fine paper capacity from the market through a combination of mill closures, machine shut-downs, and the conversion of machines to different paper products.
Two paper companies have gone out of business completely. In October, Appleton Coated, LLC was sold to Industrial Assets Corp., a liquidation company that is in turn attempting to sell the company's single facility in Wisconsin. This mill closure removed 300,000 tons of #2 and #3 coated paper capacity from the market. West Linn Paper Company closed its single mill in Oregon, removing 240,000 tons of #3 coated paper capacity.
Meanwhile, multiple paper companies are reducing the amount of publication paper they produce by either shutting down individual machines or converting them to produce paper products in higher demand, including packaging paper, linerboard, paper towels, and tissues.
The two fundamental, worldwide factors that have led to these changes are excess production capacity in the fine paper market and the steeply rising cost of pulp.
What Does This Mean for You?
Virtually all paper companies are raising prices. In fact, they pushed two price increases through within a six-week period in the fall. We haven't seen this happen in close to 10 years. Further increases are likely but have not yet been announced.
In addition, the availability of publication paper will be tight — for everyone, every-where. Paper companies are considering operating on "allocation," meaning they would allocate paper based on the previous year's orders. If this comes to pass, it would make it difficult for buyers to change stocks or increase quantity.
In order to optimize your chances of securing the paper you need for 2018, take a look at your annual production schedule and fine-tune projections for page counts and quantities. As each project comes up, confirm these factors with your vendors as early as possible, well before submission dates.
These changes represent a lasting, structural change in the paper market. Advance planning and close collaboration with your vendors will be your strongest tools for minimizing the impact on your magazine titles and budget.
POSTAGE
Approved price hikes for USPS market dominant products and competitive products took effect on Jan. 21, 2018. The new rates represent an overall 1.9 percent increase over current prices for mailing, or "market dominant" products, and an overall 3.9 percent increase for shipping, or "competitive" products. (See sidebar.)
In the bigger picture, the Postal Regulatory Commission (PRC) recently proposed transitioning to an entirely new system of ratemaking — one that would significantly affect rates for the foreseeable future if approved.
The proposal came out of a nearly year-long, mandated review of the current process for setting prices for USPS market dominant classes of mail. The PRC concluded that the existing system of ratemaking has failed to achieve the objectives set for it by the 2006 Postal Accountability & Enhancement Act (PAEA) — namely, to increase pricing efficiency, advance the financial health of the USPS, allow the setting of rates to cover costs for some classes, and foster acceptable service standard quality.
On Dec. 1, 2017, the PRC initiated a rulemaking to propose (and obtain comments on) the following changes to the system. Note that these proposed incremental price increases would occur in addition to the usual rate increases tied to changes in the Consumer Price Index (CPI):
2 percentage points of "supplemental rate authority" per class of mail per calendar year for each of the first 5 full calendar years following the effective date of the rules, if approved.
Up to 1 percentage point of "performance-based rate authority" per class of mail per calendar year contingent on the Postal Service meeting or exceeding an operational efficiency-based standard and adhering to service quality criteria.
A minimum of 2 percentage points above the average percentage class increase for any "non-compensatory product." This applies to "underwater" products that are not covering their attributable costs — namely, Periodicals Class mail and noncarrier-route Standard flat mail.
A requirement for all efficiency-based postage discounts to equal at least 75 percent of the Postal Service's resulting savings, thus encouraging greater incentives for publishers to sort mail into carrier-route bundles.
In an article published by Publishing Executive (tinyurl.com/USPSBailOut), anonymous blogger D. Eadward Tree reasons that publishers may see an estimated average price increase of 34 to 41 percent over the next five years if this system is approved.
Tree writes, "With an inflation rate of 2.05%, and assuming the USPS meets its performance goals, that would mean annual rate hikes of 7.05% (except in the unlikely event that the Periodicals class gets to breakeven). With the magic of compounding, such 7.05% annual increases would mean an average 41% hike in just five years. Without the one-point performance bonus, rates would rise 'only' 34%."
As with other ratemaking rulings, the PRC has issued a comprehensive order, which will be followed by a 90-day comments period (initial comments due March 1, 2018), then followed by a 30-day period for reply comments (reply comments due March 30, 2018).
We encourage all magazine publishers to submit comments noting how these rate increases, if approved, would affect your businesses. To do so, visit www.prc.gov and click the homepage link to "10 Year Rate System Review." The submission process includes applying for a temporary online account.
Market Dominant (Noncompetitive) Mailing Class Rate Increases as of Jan. 21, 2018
FIRST-CLASS MAIL
2.056 — Single-piece letters/postcards
1.585 — Presort letters/postcards
0.443 — Flats
0.000 — Outbound single-piece first-class mail international
21.902 — Inbound letter post
1.905 — Overall Percent Change
USPS MARKETING MAIL
1.970 — Letters
2.118 — Flats
2.768 — Parcels
2.378 — High density / saturation   letters
1.086 — High density / saturation flats and parcels
2.031 — Carrier route
0.565 — Every door direct mail, retail
1.908 — Overall Percent Change
PERIODICALS
1.927 — Outside county
1.835 — Within county
1.924 — Overall Percent Change
PACKAGE SERVICES
1.306 — Alaska Bypass Service
2.085 — BPM Flats
1.921 — BPM Parcels
1.993 — Media Mail
1.960 — Overall Percent Change
SPECIAL SERVICES
2.141 — Ancillary Services
3.689 — International Ancillary Services
2.525 — Address Management Services
1.805 — Caller Service
0.000 — Credit Card Authentication
0.000 — International Reply Coupon
2.806 — International BRM Service
0.421 — Money Orders
1.856 — Post Office Box Service
0.000 — Customized Postage
0.000 — Stamp Fulfillment Services
1.986 — Overall Percent Change